Practictioner
Olafur Eliasson 
Half Icelandic and half Danish artist, his studio in Berlin 
The Weather Project, Turbine Hall, Tate Modern, London, 2003
http://www.artists4parisclimate2015.com/en/artists/olafur-eliasson/
Rainbow Project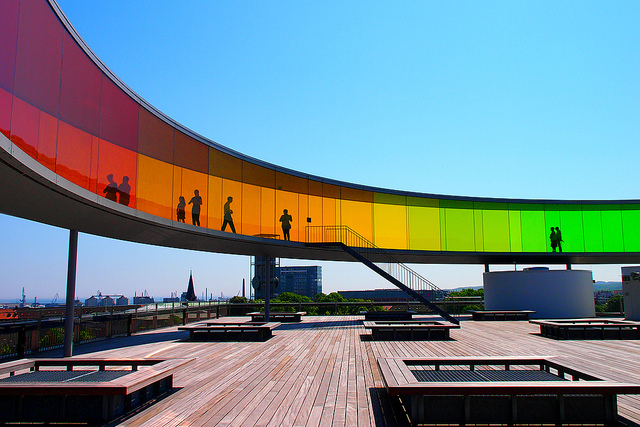 And very 
http://www.olafureliasson.net/ 
A commission by the Library Council of The Museum of Modern Art in New York, Your House consists of a laser-cut negative impression of Eliasson's house in Copenhagen on a scale of 85:1\. Designed and realised by Michael Heimann and Claudia Baulesch, the book is based on a computer-generated model of the house, sliced vertically into 454 even parts. Each of the corresponding 454 hand-bound leaves (or 908 pages) is individually cut and corresponds to 2.2 cm of the actual house. As readers leaf through the pages, they have the illusion of slowly making their way through the rooms of the house from front to back, thus constructing a mental and physical narrative. The result is an intensified sense of space, dimensions, materiality, and time.
Sophie Taeuber-Arp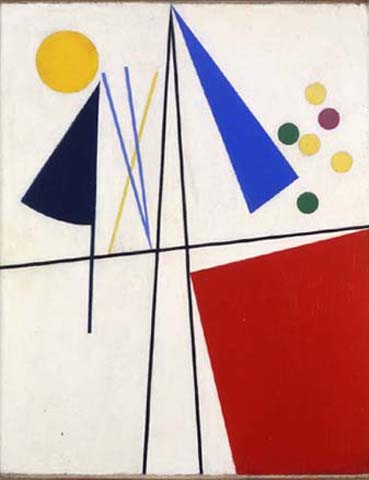 SCULPTURE :Self Checkout Ego Death Westfield Stratford City
http://tapebox.co.uk/2015/12/09/self-checkout-ego-death-westfield-stratford-city/
Touch radio
AME- Fritz Kiste
Ep. 103 AME- Fritz Kiste
Producer: Since technical evolution tends to unfold rapidly, human beings have not been able to evolve a (forewarning) sense of new forms of technology (for instance to detect radioactivity). Electronic emissions are also not sensually detectable. No one knows exactly how the technology of "wireless transmitting devices" affects humans. Radio, television, radiotelephones, mobile phones, GPS, computers, bluetooth and WiFi routers flood every place on earth with countless electronic waves. "Recordings" of a standard WiFi router serve as the basis for the "Fritz Kiste". Actually one can't really speak of (audio) recordings since the electronic waves of the WiFi are soundless. Their energy triggers the sensitive microphones, since these have been placed directly at the remote transmitting antenna. The recording - made with a D-40 Tascam, equipped with one microphone for each antenna - tapes the different transmission signals on the right or on the left channel as a "stereo signal". The WiFi router transmits at 3.4 MHz and so generates 3.4 billion cycles per second. The actual reception of the signals - eg. recorded during the transmission of an email with an image attachment - are only a few seconds long, but are prolonged through ever deeper analysis. The fragmentation was achieved via different processes, digital and analog, and via 'deceleration'. Thus fragments of a second were distended to minutes in length. In this way the router's timing-in-seconds, much too fast for human perception, becomes open to scrutiny. The results are partly 'technoid' by which sounds are very much dependent on the timing. Sounds emerge at a high transmission activity; send-pauses sound more 'ambient'.. - See more at: https://sounds.bl.uk/Jazz-and-popular-music/Touch-Radio/028M-C1428X0103XX-0100V0#sthash.I4T29koi.dpuf
Diagram
Text box
Radio Visual Generator
Visualize the WiFi signals pulsing around you
 Sebastian Sadowski and his Radio Wave Visualisation Generator. With his open source web-based design tool,Radiator, Sadowski aims to "visualise the individual imagination of radio waves", giving generative power to those invisible electromagnetic forms, and creating individual snowflake-like shapes in the process. The aim of the project is to "collect as many different visualizations as possible to give this invisible field a dynamic face."
So once you're done pondering exactly what a radio wave might look like, you can use the Radiator tool to experiment with some parameters and create your own gorgeous shapes. If you geek out hard enough you could just imagine these coming out of the palm of some radiation-struck superhero's hand as he harnesses his power before unleashing hell on his nemesis.
http://thecreatorsproject.vice.com/blog/who-knew-radio-waves-could-look-this-good
Light Painting Visualizations Of Oslo's WiFi Network
Floating amongst the urban landscape is various unseen data like radio waves and WiFi signals. The latter allows for the networked communication that keeps us all so engaged, in touch, and hunched over our screens. But its invisibility means it doesn't form part of the make up of our cities like a building, a bench, a letterbox or any other apparatus of urbanity. It just hovers there hidden, its importance measured by how quickly a web page loads or a film is downloaded. Its functional design unseen, yet so integral to our lives. Tough luck, huh?
Well not if Timo Arnall, Einar Sneve Martinussen, and Jørn Georg have anything to do with it. In their projectImmaterials: Light painting WiFi they've given form to this neglected part of the urban environment. To do this, they attached 80 lights to a 4 meter long measuring rod with a WiFi antenna on it so that the lights responded to the Received Signal Strength (RSSI) of a WiFi network. Using the pole as a giant paintbrush, they used a long exposure to light paint various WiFi signals around Oslo, creating a 4 meter tall line graph that reveals its ubiquitous presence.
http://www.nearfield.org/2011/02/wifi-light-painting
http://thecreatorsproject.vice.com/blog/light-painting-visualizations-of-oslos-wifi-network
Sound Wave
Text box
m͏̺͓̲̥̪í͇͔̠ś̷͎̹̲̻̻̘̝t̞̖͍͚̤k̥̞à̸͕̮͍͉̹̰͚̰ẹ̶̢̪s͏̨͈̙̹̜͚̲ ̛̬͓͟
Christine Sun Kim, A Selby Fil
kinetic art by Anthony Howe